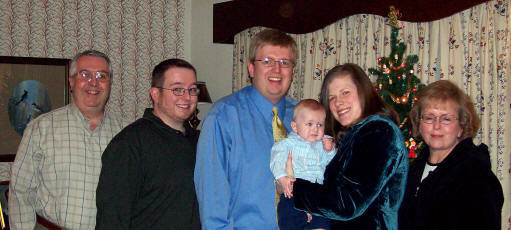 Peter Dan Andy Stephan Angie Sue

This past year has been a very exciting one for us. In July, our first grandchild, Stephan Andrew Stone was born! Grand-parenting is more wonderful than we had been told. We enjoy babysitting Stephan almost every week. For current photos and video clips, you can go to Stephan's Website.
Andy and Angie, (Stephan's parents) live in Lakewood, Colorado and we enjoy seeing them too! Andy works for a law firm in Boulder with offices in Loveland. He does elder law and estate planning. Angie is a school psychologist in the Denver school district part-time and a full-time mom.

Dan works in Fort Collins as a mental health therapist with developmentally disabled adults. He recently adopted a black lab puppy he named Everitt. Over Thanksgiving, Dan took a 12 day vacation to visit a friend in Taiwan. He had a fantastic time there and is now looking into missions opportunities in Asia.
Peter still enjoys his work at Agilent Technologies and doesn't plan to retire any time too soon. He also does computer work for a friend, Bill Cooper ( http://billcooperlogos.org ) who writes inductive Bible study material and is currently the director of Emmaus Biblical Seminary in Haiti.
Susan has found this year to be full of change and an opportunity to experience what God has planned. She prayed that the house was too quiet and that she needed something to do. The house is no longer quiet! She also is participating in an in-depth inductive Bible study series (Precept) at church and learning a lot.
We wish you a Merry Christmas and God's blessings in the coming year.
Peter and Susan Stone

The Blizzards of '06 - Two back-to-back storms in 8 days
We got dug out just in time for Christmas and got hit again before New Years.